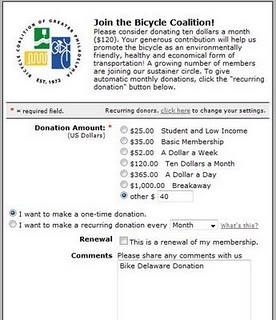 You can make a tax deductible donation to benefit Bike Delaware today. Simply follow this link to the Bicycle Coalition of Greater Philadelphia online donations page. BCGP accepts donations for Bike Delaware.
To make sure that your dollars goes to our organization please:
*Put your donation into the "other" box and
*Type in "Bike Delaware" in the comments box.
And check out our new website www.bikede.org