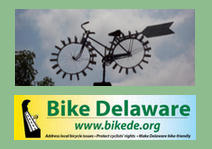 As the year draws to a close, Bike Delaware is thrilled with the progress made in 2009 and is excited about the prospects for the coming year. We led a campaign to get bike lanes on St. Georges Bridge and we supported and helped plan and implement the first Delaware Bike Summit. We have a logo, a well-developed website, an informative periodic newsletter, a Board of Directors and a good start towards incorporation.
Approaching 2010, we need on-going funding to maintain our momentum and accomplish our goals. You can help by making a donation to Bike Delaware. To make a tax-deductible donation, go to http://www.bikede.org and click on the Donate button (or just click here). Decide on your donation level on the "click-and-pledge" webpage, select the appropriate "Add to Cart" button and then click on the "Go to Checkout" button. Your donation completed this way will be processed through the Bike Coalition of Greater Philadelphia (BCGP), a 501c3 non-profit organization. GCGP will then transfer the money to Bike Delaware. If you want to make a direct donation, you can make a check out to "Bike Delaware" and mail to the Bike Delaware treasurer:
Carol Ireland
106 Hobson Dr
Hockessin, DE 19707
How will your donation be used? Here are some examples. We will develop communications supporting a three-foot passing law to be voted on in the DE House (it passed unanimously in the Senate). We will support the 2010 Delaware Bike Summit (scheduled for May 21 — mark your calendar). We will develop educational brochures covering bicycle safety, bicycle laws and bicycling issues to distribute at community events. We have joined one national advocacy organization and would like to take advantage of the resources provided by one or two others. We would like to support one or two of our members attending the National Bike Summit in Washington in March. We have an on-going server charge for our website.
Membership in Bike Delaware is free, today. Our goal is to avoid starting to charge a membership fee, so your donations are essential.
We thank you for your on-going support and look forward to working with you towards a more bike-friendly Delaware in 2010!
Frank Warnock, President
Drew Knox, Vice-President
Maria Wilburn, Secretary
Carol Ireland, Treasurer
Caroline Honse, At Large