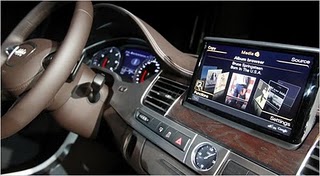 NY Times, January 7, 2010 – To the dismay of safety advocates already worried about driver distraction, automakers and high-tech companies have found a new place to put sophisticated Internet-connected computers: the front seat. Technology giants like Intel and Google are turning their attention from the desktop to the dashboard, hoping to bring the power of the PC to the car. They see vast opportunity for profit in working with automakers to create the next generation of irresistible devices.
"This is irresponsible at best and pernicious at worst," Nicholas A. Ashford, a professor of technology and policy at the Massachusetts Institute of Technology, said of the new efforts to marry cars and computers. "Unfortunately and sadly, it is a continuation of the pursuit of profit over safety — for both drivers and pedestrians."
One system on the way this fall from Audi lets drivers pull up information as they drive. Heading to Madison Square Garden for a basketball game? Pop down the touch pad, finger-scribble the word "Knicks" and get a Wikipedia entry on the arena, photos and reviews of nearby restaurants, and animations of the ways to get there.
Read on . . .