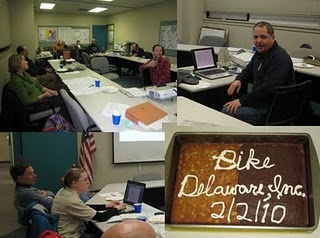 Bike Delaware's first "Annual Meeting" took place on Tuesday, February 2, 2010 at WILMAPCO in Newark. The meeting had record attendance – 14 people – including several first-time attendees. The officers were introduced, including President Drew Knox (on vacation and unable to attend), Vice President Caroline Honse (tied up with work and unable to attend), Secretary Maria Wilburn, Treasurer Carol Ireland and Public Relations Frank Warnock. The big news of the evening came from Sally Humphrey: Bike Delaware is officially incorporated!! Many thanks to Sally of Delaware Greenways for engaging a lawyer to assist Bike Delaware on a pro bono basis in completing the incorporation papers.
A special topic on the agenda was a 2009 summary given by Frank Warnock. In mid-2009, Bike Delaware had identified three goals:
1) Promote a safe bike crossing of the C&D Canal, on the St. Georges Bridge.
2) Seek passage of a 3-foot passing law.
3) Followup on the Complete Streets Executive Order.
Significant progress was made on all three goals. Anthony Aglio, Bicycle Coordinator for DelDOT, announced significant progress with the St. Georges Bridge, and what could be a major victory for bicyclists in Delaware. Bike Delaware provided feedback on the DelDOT policies resulting from the Complete Streets Executive Order. We will continue to monitor the implementation of those policies. The 3-foot passing law passed the Senate unanimously. Our hope is that it will pass the House early in 2010. See Frank's charts HERE (pdf) for additional information on the progress made by Bike Delaware in 2009.
John Boyle gave a presentation outlining the progress made by the Bike Coalition of Greater Philadelphia in that city. Definitely an inspiration for Bike Delaware!
The pizza-sub-chips-soda supper was supplemented by a cake to celebrate the fact that Bike Delaware is now incorporated.