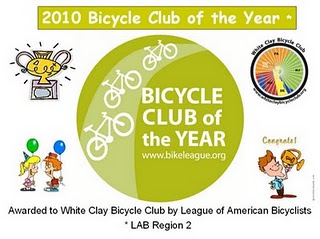 WCBC was recently chosen by the League of American Bicyclists as its 2010 Bicycle Club of the Year for region 2 (DE, MD, NJ, PA, WV and DC). This award is in recognition of WCBC's rich, 37 year history of excelling at: reaching out to the community to promote safe recreational bicycling activities; offering cyclists multiple opportunities to engage in, develop and grow in the sport of cycling; and advocating the rights of bicyclists on a local, state and national level.
Most recently, WCBC has provided critical time, talent and seed money to assist Bike Delaware to get organized, incorporated and functioning to "promote bicycling as a healthy alternative to driving and to advocate bicycling safety provisions within our state transportation system".
In addition, WCBC's four popular and well-known, fully supported annual fundraising rides have allowed the club to donate over $7000 annually over the last five years to organizations such as: Bicycle Coalition of Greater Philadelphia; Bike DE; Wilmington Urban Bike Project; DE School Nurse Helmet Bank; DE Special Olympics, DE Autism Foundation; DE Greenways; Rails to Trails; USA Cycling Development Foundation; LAB and others.
For the complete early history (1970s) of this legendary bicycle club, go HERE. Check out their membership benefits and join HERE.