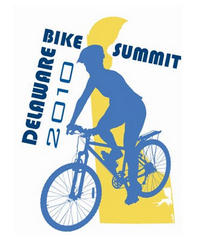 Friday, May 21, 2010, 8:30 am until 2:00 pm at the Wilmington Baby Grand Opera House. This year's Bike Summit will focus on Delaware – what's been going on since the last Summit, examples of Delaware communities working towards Bicycle Friendliness, and how you can become more involved in bicycle friendly initiatives. Community leaders, local, county and state elected officials, members of non-profit organizations that promote bicycling, and bicyclists themselves are encouraged to attend. Space is limited so please register early!
Summit participants are encouraged to bicycle to the Summit. Secure bike parking will be available (check back soon for more information). The Planning Committee is exploring opportunities for shower facilities the morning of the Summit. Changing rooms are available at the Baby Grand. The formal Summit program will be followed by a bike ride with Governor Markell and the pros through Wilmington and beyond.
The timing of the Summit coincides with the kick-off of the Wilmington Grand Prix bike race. Bicycle Summit participants will receive tickets to the pre-race party Friday evening, the post-race party Saturday afternoon, and discount rates at local hotels. Enjoy a full biking weekend by taking advantage of a special hotel rate and spending a night or two in Wilmington! Complete information and registration HERE.