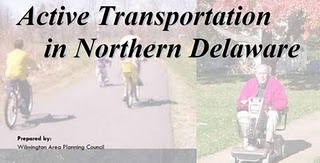 After years of organizing supporters around the country, Rails-to-Trails Conservancy (RTC) is excited to announce that on Tuesday, March 2, 2010, U.S. Rep. Earl Blumenauer (Ore.) introduced H.R. 4722, the "Active Community Transportation Act of 2010" (ACT Act), on the floor of the House of Representatives!
The ACT Act is the direct result of Rails-to-Trails Conservancy's (RTC) Campaign for Active Transportation. The Act would create a $2 billion program to fund dozens of communities around the country to improve their trail, walking and biking networks. If this bill is enacted, communities around the country will receive the resources to better allow Americans to walk and bike to the places you live, work, play, shop and learn. New Castle County, Delaware is in a lead position with WILMAPCO's "Active Transportation in Northern Delaware" Case Statement (pdf).
HOW YOU CAN HELP: Contact Delaware's representatives via email, using this convenient, pre-written letter at the bottom of RTC's website, automatically configured when you add your contact information. Or, go to our Resources Page under "Contact Your Representatives" for a more direct approach. There is no further obligation!