The Delaware Department of Transportation (DelDOT) is holding a Virtual Public Workshop to present the proposed removal of the State Route designation for what is currently State Route 82. SR 82 continues from SR 52, Kennett Pike, to the Delaware and Pennsylvania State Line. This route is part of the Red Clay Valley Scenic Byway; for which a Corridor Management Plan was formally approved in 2008. An element of this Corridor Management Plan was to consider the removal of the State Route designation as means to conserve and enhance the Valley's cultural, scenic, historic, and natural resources. The deadline for comments which can be submitted HERE are due by April 4th.
The Corridor Management does briefly address bicycle travel on these road. Popular with fast moving road cyclists, the narrow width and the narrowness of the road preclude usage by less experienced cyclists and the plan specifically notes that the historic qualities of the road will be preserved.
"The intent here is to maintain the existing roadways in a manner that maximizes protection of the Valley's intrinsic qualities – the historic narrow road widths, sharp curves and nearby roadway features"
.
But one issue that is not addressed in the plan is the idea of additional traffic calming to reduce speeds. One that seems like an easy solution is to
remove the double yellow centerlines
. On a narrow rural road with limited sight lines issues this may raise red flags at DELDOT but many adjacent roads with slightly lower traffic volumes don't have them. The decommissioning of SR 82 should result in lower traffic volumes.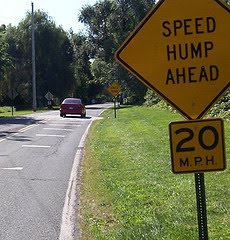 Speed hump to slow drivers on Providence Rd in Montgomery County, PA, an on-road section of the Schuylkill River Trail.