By James Wilson
Rep. Mike Castle has been a friend of pedestrians and cyclists in Delaware.
He
*  championed the C&D Canal recreation project
*  has participated in campaigns for greenways and open space
*  spoke at last year's Delaware Bike Summit
*  is a member in good standing of the Congressional Bike Caucus
Right now, the Active Community Transportation Act (ACT) – the most important piece of bicyclist/pedestrian federal legislation in at least 20 years – has been introduced in the House of Representatives. In a bitterly divided and partisan Congress, Mike Castle is nonetheless considering reaching across the partisan divide that paralyzes Congress to co-sponsor ACT even though it was introduced by a Democrat, Rep. Earl Blumenauer of Oregon.
On March 11, a de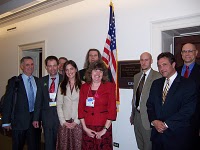 legation from the Delaware Bicycle Council, Delaware Greenways, Bike Delaware, Delaware Trail Spinners, and the Rails to Trails Conservancy were greeted with enthusiasm by Mike, who then put us in the very capable hands of his Legislative Assistant Jenna VanSant.
We spoke at length and in great detail with Jenna about all the benefits that ACT will have for the nation and for Delaware. We noted how it will reduce dependence on foreign oil and increase the resilience of Delaware's economy. We presented evidence about how it will improve public health and reduce the incidence of diabetes, reducing government and Medicare and Medicaid costs in the process. We discussed an analysis that it will make some federal investment in new roads unnecessary, saving the federal government, by very conservative estimate, at least $6 billion. And, finally, we emphasized the congestion mitigation benefits of reducing vehicle miles traveled by replacing short trips by car with travel by bicycle and on foot.
We joked with Jenna that, if we could have claimed that ACT would cure male pattern baldness, we would have. But, joking aside, there is in fact absolutely solid evidence and analysis for all the benefits we claimed for ACT, which we provided to Jenna and Congressman Castle. There is an overwhelmingly strong case in favor of making the federal investment in non-motorized infrastructure authorized by ACT.
In an environment where even the smallest bipartisan gestures are greeted with suspicion or worse, we cannot emphasize enough the amount of political courage that will be required for Mike Castle to be the first Republican to co-sponsor the Active Community Transportation Act. In other states, "bikepartisanship" may be in as short supply as bipartisanship on anything else. But here in Delaware, we have Mike Castle, and bikepartisanship still has a fighting chance.