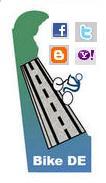 Bike Delaware continues to expand, now with social media outlets Facebook and Twitter. Our pages here will be automatically updated via direct feed to Bike Delaware News. For those who use these services, this will add more tools for staying abreast of the latest news and events.
A subscription to our listserver is still required to maintain your free Bike Delaware membership. There are a couple of options for how you choose to subscribe, including individual emails or receiving one "daily digest" email per day that merges up to 25 email messages into a single message. With the latter, you can quickly scan down through the titles or messages themselves and select what's of interest to read. To make any changes, either visit our yahoo groups page yourself, or email us at: advo_info@bikede.org.
Bike Delaware News is now upgraded with the addition of labels in the right-hand column, featured below the "Blog Archive". Over 5 great years of bicycle advocacy in Delaware is now just a click away, readily available by category! Everything from the very first Bike Delaware meeting in June 2005 with Chairman Mario Nappa, to the 2010 Delaware Bike Summit coming up in May 2010. Among others, relive the battle for Route 1 bike lanes at the beach, and how DelDOT moved on the completion of the Junction and Breakwater Trail thanks to the efforts of John Boyle and the Sussex Cyclists.
Members are encouraged to bookmark and check in regularly with Bike Delaware News, your place for feedback and comments.