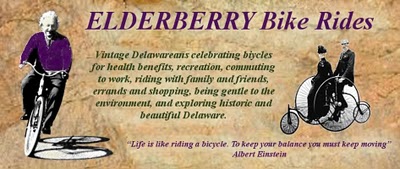 On many days in Delaware, you can see groups of serious long-distance bicyclists in their brightly-color spandex biking clothing power their way up and down the scenic hills of northern Delaware. Sadly however, you rarely see families with kids, senior citizens, or just "regular" people out on Delaware roads biking for fun, exercise, or to run errands. The good news is that this about to dramatically change!
Bike Delaware, an advocacy group of bicycle enthusiasts who promote biking as an alternative to driving, is launching a campaign to get Delaware citizens back in the saddle again for safe and leisurely organized bike rides throughout the state. Vice President Caroline Honse has organized Elderberry Bike Rides, designed for people of all ages and bike riding abilities to participate in group rides where they can learn safe bike riding practices while enjoying the beautiful scenery and historical areas of Delaware. The target groups for the 2010 Spring, Summer, and Fall Rides will be families with kids, senior citizens, and others who haven't biked in years and are a bit hesitant about taking on the longer, faster, group rides offered by other bike clubs in Delaware.
Planned activities throughout the year will include: Scavenger Hunt for all ages at Glasgow Park; Exploring Old New Castle historical areas and wetlands by bike; White Clay Creek Bike Ride & Picnic; Senior Sunset Ride Down Hall Trail with Dutch Treat Dinner; Junction-Breakwater Trail Ride in Rehoboth Beach; Nature & Street Photography Bike Ride in Newark area; Autumn Leaf Peeper Ride at Bellevue State Park. Safe Toddlers on Trike Trials and Kid's Bike Games will also be offered for the tiniest bikers among us.
Don't miss out on seeing Delaware up close and personal by bike, making new friends, and being kind to our environment. Park your car and go Green withBike Delaware! We'll be happy to assist new riders with gaining confidence and experience in riding a bike according to the Delaware Bike Rules of the Road. See the flier in pdf HERE. For more info or to be placed on the ride email list, contact: DelawareBikeRides@gmail.com