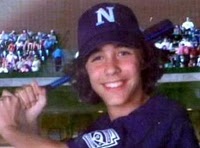 A 16-year-old boy was killed by a hit and run driver while walking across Rt.273 on Brownleaf Road, a popular connection for the non-motorized between 2 major developments. That and another unrelated death in Millsboro in the same hour bring the number of pedestrian crashes to nine for the year, compared with two at this time last year. At this rate, Delaware will be competing with Florida for the top spot in non-motorized fatalities for 2010.
According to the Wilmington News Journal article, "Birchwood Drive resident Steve Adams said just
about every one of his neighbors across the street, with homes on Del. 273, has had a vehicle run
into a yard or house. One time, one even had a car run into his swimming pool. There's never a
police officer on that road, Adams said. They gun it and nobody stops them. They run that red light
every day. Unfortunately, last night someone was killed".

Brownleaf Road across this intersection is also Bike Route 1

.

Though it may not have helped much in
this situation, it should be noted there is no pedestrian signal lighting, crosswalks, or bicycle
safety features present. The in-ground trip sensor is also non-bicycle friendly. With sporadic
motor vehicle presence, cyclists and pedestrians are often forced to run this light on red when no
cars are present, sometimes in a near miss situation.