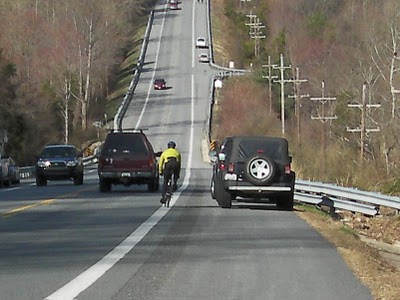 Bike Delaware met with Maryland's State Highway Administration back on March 9, 2009 to shed light on serious design flaws with the implementation of rumble strips along popular bicycle routes. Route 273, very popular with area cyclists and a main feature among WCBC event rides, was implemented in such a way as to force cyclists to avoid the shoulder entirely, or risk loss of vehicle control while attempting to leave the shoulder for turn situations or to avoid debris or parked cars.
In a recent discussion with Maryland's Director of Bicycle and Pedestrian Access, the following was learned from SHA:
"We're still working on the guidelines. It's been a long process in part because of concerns raised by the bicycling community. We want to make sure we get it as right as possible for all road users. I don't think we want to send [a] draft as it stands at the moment, so I guess someone should email back and explain that we're still working on it".
Of particular concern was this happening in spite of Rt.273's designation as a MD bike route. Despite its high speed limit, it remains a favorite among Delaware and Cecil County cyclists, often serving as an "out and back" ride for those less inclined to ride non-shouldered roads.