View Larger Map
Acting on a tip from a co-worker today, I altered my usual commute and pedaled over to the intersection of Casho Mill Road and Rt.273 (Nottingham Rd) in Newark. What I found not only made my day, but my entire year so far. Gone were the right turn-only lanes, in favor of bike lanes. Now, this is something you don't see everyday!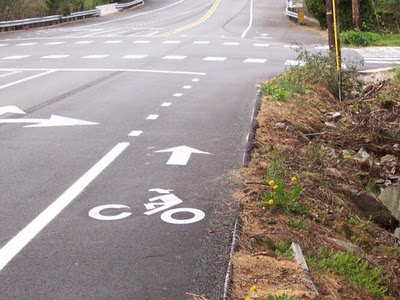 Note the line breaks, signaling to motorists it's okay to share the bike lane closest to the intersection to make a right turn.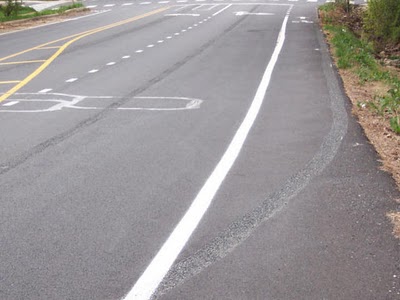 The real deal; right turn-only lane eliminated! Note the original striping, grinded out AFTER the road was recently resurfaced and re-striped, and replaced with the bike lanes. Hope for Rt. 4?
The rest of my ride home was very pleasant, encountering several other cyclists as I continued east on Rt.273 into Newark, then on to Delaware Ave bike lanes with plenty of students on their bikes, and eventually back home in Ogletown.
This was a great day, one of renewed hope that Complete Streets will become a reality in Delaware. Thanks to Anthony Aglio, and those at DelDOT who work tirelessly on behalf of the non-motorized.