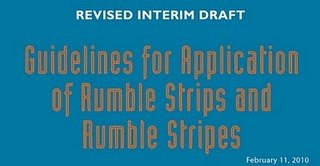 Responding to Bike Delaware concerning cyclist-unfriendly rumble strips on Rt.273 – a very popular bike route for northern Delaware and Cecil County cyclists – Maryland's State Highway Administration presented us this "Revised Interim Draft" (pdf). If you are disappointed with the current design, such as the spacing between the rumble strip and the white line, and how they follow the breakdown lane striping to a pinch, or provide few if any openings for cyclists to exit, PLEASE take a few moments to review this new policy.


Excerpts from the draft:
"Along expressways where bicycles are expressly permitted to travel and along other highways where

shoulder rumble strips are desirable, the accommodation of bicyclists must be considered".

"Where the outside shoulder is less than five feet in width: The installation of rumble strips is to be coordinated with the Bicycle Coordinator within the

Office of Planning and Preliminary Engineering, who will provide the needed coordination with the

Bicycle and Pedestrian Advisory Committee".

"Although safety is maximized by continuous rumble strips, for highways where the posted speed limit

is less than 55 mph, gaps for bicyclists shall be installed".

"Transverse rumble strips should not be placed on roadways used by bicyclists unless a minimum clear

path of 4 feet is provided at each edge of the roadway or each paved shoulder as described in

AASHTO's "Guide to the Development of Bicycle Facilities".
This new draft, when accepted, will be used when implementing along other MD highways in the future.
So if you enjoy riding in Maryland, please review and email your comments to
cschreiber@sha.state.md.us