Maryland, right next door, is making big progress. A warm round of kudos for the dedicated work of several at their State Highway Administration (SHA) and other advocacy groups:

SENATE BILL 624 – Intersection rules of the road:
Authorizing a person operating a bicycle to ride the bicycle in or through a crosswalk in specified locations under specified circumstances; requiring a vehicle to yield the right-of-way under specified circumstances to a bicycle that is in a crosswalk; authorizing, under specified circumstances, a person who is operating a bicycle or motor scooter to use the roadway even if a shoulder is present; etc.

SENATE BILL 51 – 3-Foot Law:
Requiring that a driver of a vehicle, when overtaking a bicycle, an Electric Personal Assistive Mobility Device (EPAMD), or a motor scooter, pass safely at a distance of not less than 3 feet, with a specified exception; requiring a driver of a vehicle to yield the right-of-way to a person who is riding a bicycle, an EPAMD, or a motor scooter in a bike lane or shoulder under specified circumstances; etc.
HOUSE BILL 282 – Bicycle and Pedestrian Access:
Funding and Reporting Declaring that it is the policy of the State that, in developing the annual Consolidated Transportation Program, the Maryland Department of Transportation shall work to ensure that there is an appropriate balance between funding for specified transportation projects for pedestrians and bicycle riders and specified highway construction projects and place increased emphasis on specified transportation projects; requiring the Statewide 20-Year Bicycle-Pedestrian Master Plan to be reviewed and updated in specified years; etc.
SENATE BILL 321 – Handheld Phone:
Prohibiting a driver of a motor vehicle that is in motion from using the driver's hands to use a handheld telephone except to initiate or terminate a wireless call or to turn on or off the handheld phone; providing that a violation of the Act may be enforced only as a secondary violation; establishing penalties of $40 for a first offense and $100 for a second offense; prohibiting a driver of a school vehicle or a holder of an instructional permit or provisional driver's license from using a handheld phone while driving; etc.
However, Maryland's DOT still needs to adopt a design guideline for "triangular channelizing islands" (aka Pork Chops), providing a minimum 5′ continued shoulder or bike lane for safety through intersections. That is not the case here, on Rt.40 in Elkton: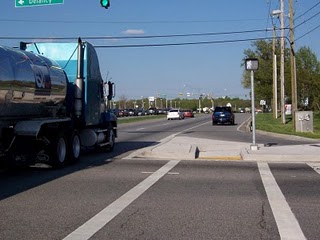 View DelDOT's own, recently adopted 5′ design guidance memorandum, in pdf HERE.