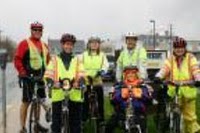 Thurs-Fri, April 29-30, 2010. For the 2nd year, the planning committee for the DE Bike Summit is sponsoring a "Rolling Press Conference" through the state, to promote the May 21 DE Bike Summit. Last year, the participants were primarily planning committee members. This year, they're extending an invitation to riders in northern Delaware to join the group on their ride from Smyrna to Newark on 4/29, then Newark to Wilmington on 4/30. This will be the last 2 legs in a 5-day ride through the state.
If you are interested in participating in this ride, please email Anthony Aglio and Jim Westhoff:
They will notify you of the time and place to meet, which will depend on the timing of press conferences in Newark and Wilmington.
You will be responsible for providing your own transportation after the ride. If you don't want to bike back on Friday, there are several buses that can transport you and your bike to Newark. The riding pace is leisurely, particularly because some of the particpants don't do that much cycling.