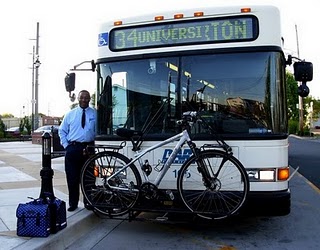 DART drivers like Eddie Thompson make riding the bus a pleasure. With so much practice, our VP, Caroline Honse can sling her bike up on the bus bike rack in 20 seconds; but not when Eddie is driving. He jumps off the bus with a big smile, teases her about her high fashion matching panniers, and loads the bike on the bus for her. She always thanks him for his courtesy and he replies with surprise, "but of course. You are a lady".
So why not go a step further – VP Honse writes a letter to the Director of DART:
Dear Director Kingsberry—
I've been commuting by bike and DART bus (between Newark and Wilmington) for the last three years and wanted to thank DART for the ability to transport my bike on the bus. I'm the Vice President of BikeDelaware, an advocacy group working to make Delaware a more bike-friendly state. As part of this I write a blog to highlight these activities and I have just posted a blog that mention DART buses and one particular bus driver, Eddie Thompson. Please take a moment to look at this blog which you can access HERE.
As Bike Delaware works to get more Delaware residents to enjoy biking as well as begin to use a bike for commuting to work, I expect that even more people will take advantage of the bike racks on DART buses. On May 21st, there will be a Delaware Bike Summit held in Wilmington in conjunction with the professional level Grand Prix Bicycle Race. ~Caroline
Reply from Director Kingsberry:
Caroline, thanks- you made my day. We will include Eddie's name in our Driver of the Month contest. Please send information about the conference on May 21, 2010. I would like to attend. I am a biker. We will give you material for the conference gift bags. ……………………..Stephen