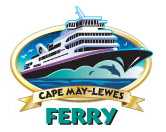 The Cape May–Lewes Ferry encourages bicyclists to use the ferry service to take a break and cross Delaware Bay for fun and recreational purposes. The fare for bicycles and riders is $10.00 one way or $18.00 round trip, the same as a foot passenger. The ferry service does not charge a separate fee for bicycles.
Among their latest features is bicycle rentals. Now you can rent a bicycle from Lewes Cycle Sports and pick it up at the Lewes Terminal, or be transported to the bicycle shop (5 minute ride) instead. Simply call Lewes Cycle Sports at 888-800-BIKE or 302-645-4544 to make the rental arrangements. When you get off the ferry at the Lewes Terminal, your bike can be waiting for you!
The Lewes Ferry agrees with Bike Delaware's mission, and fully supports our goals to enhance bicycle safety and awareness in our state. They recognize that Delaware was selected by the League of American Bicyclists (LAB) as the ninth most bicycle-friendly state in the nation. The Junction and Breakwater Trail, a 6 mile long trail along a former rail line connecting Lewes and Rehoboth Beach is also located on the southwestern side of Cape Henlopen State Park, and readily accessible by ferry users.