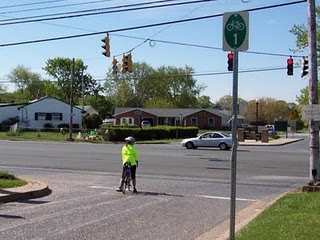 After a recent pedestrian fatality, DelDOT is well aware that there are many problems on Brownleaf Road where it crosses Rt.273. One immediate safety improvement is an adjustment to the in-ground loop detection sensor, to ensure bicycles can be "seen" by the traffic signal. This intersection connects two active communities, and is found on Bike Route 1.
Bike Delaware VP Caroline Honse, also a popular ride leader, has arranged to meet with a DelDOT technician who will perform the necessary tweaks on Thursday, May 20. This has been done before; a number of other intersections have been addressed, most notably Red Mill Road at Rt.273 thanks to Joe Petrucci. All are welcome to join them, one day before the Delaware Bike Summit! Lots of photos will be taken.
The importance of signal detection for bicycles can't be stressed enough. Failure to change from red to green often forces cyclists to run the light – sometimes through high speed traffic as found on Rt.273. What we will witness on May 20 is an increase made to the sensitivity, enough to guarantee bicyclists have a chance at a green if they align their bikes over the sensor.
We also encourage DelDOT to make use of the MUTCD in the application of "Pavement Detector Markings" (below). This ensures bicyclists align themselves correctly over the loop sensor. Most, including motorists, are unaware of what this is – much less how to align themselves.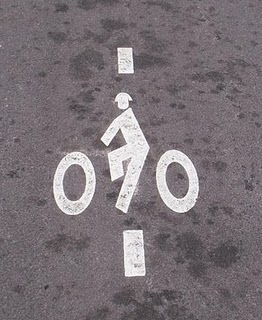 Contact VP Honse with any questions: advo_info@bikede.org