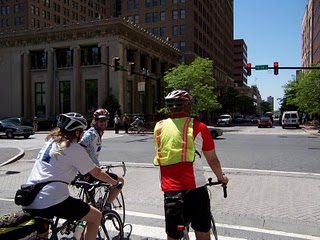 Organizers are hoping that many participants ride their bikes to the 2010 DE Bike Summit on Friday, May 21. To encourage you to do so, we have arranged for ride leaders to lead groups from four locations:
6:45 a.m. from Harmony Plaza Shopping Center, Ogletown. Approx. 17 miles at 12-13 mph (avg) to Wilmington. Ldr: Frank Warnock, f.warnock@comcast.net
7:15 a.m. from Grace Lutheran Church, Rt. 41 and Graves Rd, Hockessin. Approx. 10 miles to Wilmington. Ldr: Craig Hall, craigshall@aol.com
7:30 a.m. from Branmar Plaza (Brandywine Cyclery). Approx. 6 miles to Wilmington. Ldr: John McCormick, j.c.mccormick@verizon.net
7:45 a.m. from the Park-n-Ride at DuPont Rd & Rt. 52. Approx. 4 miles to Wilmington. Craig Hall craigshall@aol.com
Please consider riding on your own or meeting up with a group at one of the locations above. Ride leaders can only maintain a certain pace and participants may be on their own should they go off the front or fall behind. Contact the ride leader if you have any specific questions.
Bike parking is being provided by the soon-to-open Bicycle Boutique in the Nemours Building in downtown Wilmington, on Orange St between 10th and 11th. Shower facilities will be available there as well. Once you park your bike and change, you can walk the few blocks to the Baby Grand, on Market St. between 8th and 9th Streets.