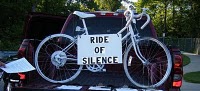 Excellent weather greeted Delaware cyclists near and far as they entered New Castle County's Ride of Silence, held on on May 19th. Some participants included friends and relatives of those killed while riding in accordance with the law, or in the presumed safety of a wide shoulder, including Andrew Mein and Mark Schaumann.
A warm round of kudos to the Newark Fire Department, Fire Police, and Lt George Stanko of the Newark Police Department for his motorcycle escort the entire way. Everything went according to plan with no incidents reported.
On line photos HERE.