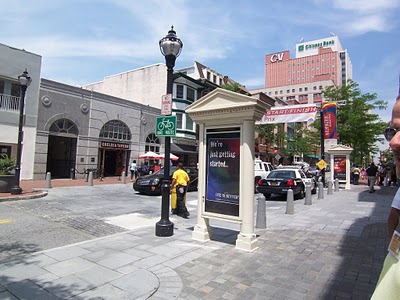 At yesterday's Delaware Bike Summit the City of Wilmington highlighted its progress towards making Market St a bicycle friendly street from the Christina to the Brandywine Rivers. The city has put up "Bike Route" signs and will soon install post/ring bike racks along the sidewalk (in sight of the city's security camera network) and mark the roadway with Sharrows, the first in the state.
The central core of Market Street is a former pedestrian mall was converted to a traffic calmed main street about a decade ago. Hopefully this will be the first implementation project of many for the Wilmington Bicycle Plan.

The paint is still wet at the city's first downtown bike shop "The Bike Boutique" but they opened their doors ahead of the real opening later this month for the Summit and Grand Prix. The store offered free indoor bike parking and a shower (through a partnership with Plexus Fitness next door) to Bike Summit commuters.
When the Bike Boutique fully opens next month they will specialize in both high end bicycles as well as commuter and cruiser bikes. They will also offer a daily bike storage/shower for a nominal fee (consistent with bus fares and parking fees) as well as repair services. The shop is located on Orange St between 10th and 11th in the Nemours Building (behind Hotel DuPont).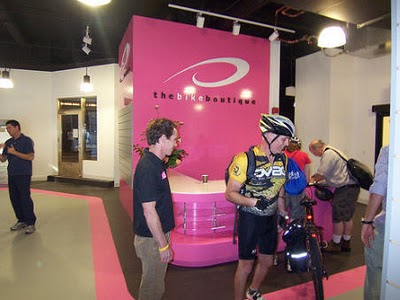 Bike Delaware President Drew Knox checks his bike in at the Bike Boutique.