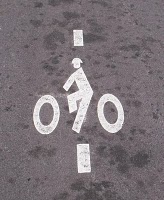 DelDOT signal technicians met with Bike Delaware VP Caroline Honse on May 20, out at the Brownleaf Road/Rt.273 intersection where a pedestrian was killed a few weeks ago trying to cross between neighborhoods. At issue for bicyclists is the loop detector, adjusted as such that only motor vehicles can actuate a green light when stopped over it. With adjustments as seen in these photos, it is now possible for a cyclist to do the same, if they align their bicycle over the lines in the blacktop. For the most part, intersections around Delaware are already upgraded or adjusted in this manner, or will be. But too many still exist giving cyclists (and pedestrians) no chance at all to cross safely.
It is also recommended that DelDOT perform pedestrian safety upgrades here and all similar Rt.273 crossings, bringing them in compliance with the ADA (American Disabilities Act) and Complete Streets. This includes, at minimum, crosswalks and push button actuation.
We will continue to advocate for Bicycle Pavement Detector Markings (above), as included in the MUTCD. Most drivers are unfamiliar with the technical aspects of a traffic light, but almost always actuate its change just by pulling up before the stop line. Bicyclists, on the other hand, must align their wheels and frame in a specific position one must know about, or be stuck at red until a driver pulls up and does if for them. This only encourages riders to run the red light, sometimes through 4 lanes of high speed traffic as seen here.
Regardless, we warmly thank DelDOT and these two technicians (Steve and Rob) for making a difference on Brownleaf Road, Bike Route 1!