Leaving work today at 4 p.m. for a dentist appointment at Peoples Plaza in Glasgow, another Complete Streets green shoots surprise; brand new bike lanes the entire length of Glasgow Ave (aka Bus. 896). Cyclists of all types could be seen, from local solos to race pace group rides.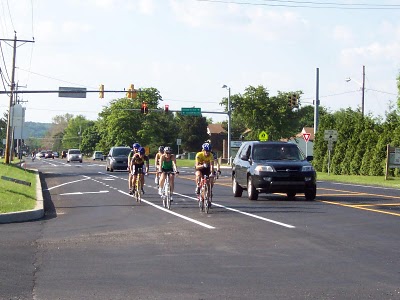 Bike lanes on roads like Glasgow Ave, with its multiple right turn-only lanes and retail driveway entrances, are a huge safety enhancement. They help define road space, decrease the stress level of bicyclists riding in traffic, encourage bicyclists to ride in the correct direction of travel, and signal motorists that cyclists have a right to the road. Bike lanes also help to better organize the flow of traffic and reduce the chance that motorists will stray into cyclists' path of travel.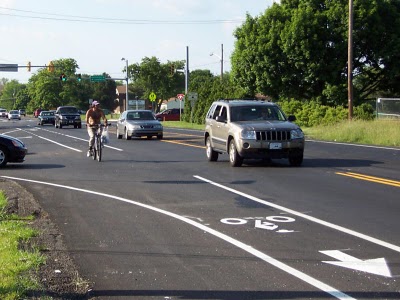 We can look forward to many more like Glasgow Ave as Complete Streets becomes official in June.
A big tip of the helmet to Anthony Aglio, our Bicycle Coordinator with DelDOT, for helping see this through.