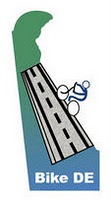 Bike Delaware's June 1 meeting will NOT be at Wilmapco, as usual. It will take place at the home of Frank Warnock, Bike Delaware's Public Relations Chair. If the weather permits, we will fire up the BBQ and should have plenty of food on hand.
We will still have the phone line open for conference calls: 712-432-0800; access code: 1029246#. The agenda will be posted by the evening of Monday, May 31.
Find it HERE on Yahoo Maps. Time: 6 p.m.
105 Medley Drive
Harmony Woods
Newark, DE 19713
(302) 366-0842