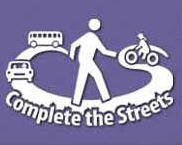 A federal complete streets policy will result in better roads around the country and better use of the billions of dollars invested every year in building and maintaining the transportation system. With this convenient form, write and tell our representatives to support federal complete streets legislation: S. 584 introduced by Senator Harkin (IA) and H.R. 1443 introduced by Representative Matsui (CA). If your Senators and Representative have already signed on as cosponsors, you'll be given the opportunity to thank them for their leadership.
The Complete Streets Act would ensure that future federally funded transportation projects take into account the needs of everyone using the roads – old and young, bicycle riders and drivers, pedestrians and public transportation users.
You can edit or personalize the text of the email after you submit your zip code, which will help strengthen your message. Feel to add a story of your own from your community. Talk about local streets that are unsafe or the local demand for walking, biking, and safe, convenient places to use public transportation.