Bike Delaware members are inquiring about the optimal position needed so their bike can trip a traffic light from red to green. DelDOT has now adjusted the sensitivity on several in Delaware, by request, taking them from cars-only detection to detecting all users.
This one pictured below, across from Red Mill Road at Rt.273 further west, was adjusted a few years ago and did not require a fatality for DelDOT to answer the call. It just took Bike Delaware member Joe Petrucci contacting Public Relations, and following through in much the same way as VP Honse did more recently on Brownleaf at Rt.273.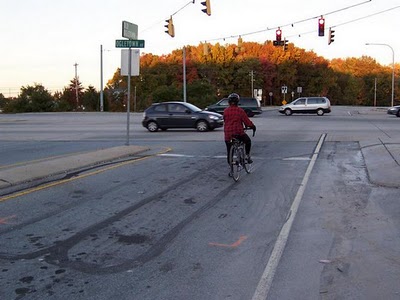 Note the alignment of the wheels over the Loop Detector (covered with tar strip) in the blacktop. This light will now change to a green just the same as if a motor vehicle was present.
Few understand the technical aspects of signal detection, including motorists who routinely roll past or in front of the stop line and then wonder why it doesn't change. We often see them blocking the crosswalk, or even interfering with the intersection turn radius, but enforcement is rare or never in Delaware.
Bike Delaware will continue to advocate for Pavement Detector Markings, as an education and safety tool for bicyclists. It is nothing more than a small painted symbol, approved in the 2010 MUTCD, indicating exactly where to align the front wheel over the loop.