On Saturday, July 16th, I had the pleasure of riding down to Delaware City, and watching the town's annual parade. A very fit and in shape Rep. Mike Castle was there, and, as always, he was very friendly and approachable. And so was Greg Lemon, his staff assistant in a LiveStrong Tee Shirt, who I had take a photo of us. I keep adding these to my collection of those with Mike at events, often celebrating Delaware's great outdoors and communities coming together, including those related to biking and walking. It appears Rep. Castle and his staff understand and appreciate the importance of an active lifestyle, a healthy environment, and free choice when it comes to transportation options. So why does he refuse to co-sponsor the Active Communities Transportation Act (ACT)? In asking face to face, the only answer I could get from Mike was "I would really like to – I want to".
If only we could convince Mike and those advising him that there is nothing inherently conservative about favoring highways — and nothing un-conservative about alternatives to the automobile. William Lind, a co-author with the late Paul Weyrich of the Heritage Foundation, dismissed the tired myth that our preference for automobiles in this country is a free-market outcome. "Nothing could be further from the truth," he says, pointing out that 100 years ago, Americans relied on a variety of systems, including intercity trains and streetcars, all of which were privately owned and free of government support.
Finally, ACT itself is not an earmark, pork, or any other form of wasteful spending. It does NOT spread the money around, and is a great fit for the conservative agenda. It's a competitive and targeted grant program taken only from a tiny percentage of the transportation bill. Only communities that present a compelling case to the U.S. Secretary of Transportation for how they will spend ACT money to increase walking and bicycling will get grants. And what will the average size of such grants be? $50 million, the same as what Portland spent over the last 20 years to get to where it is today. See Northern Delaware's in pdf HERE.
We may never know why Rep. Castle isn't on board with this bill, except perhaps fear of blowback from his own political party. We can only hope he changes his mind and gets in touch with Earl Blumenauer, the bill's lead sponsor. Few bills like this pass – approx. 4% – and bi-partisanship is key for there to be a realistic chance.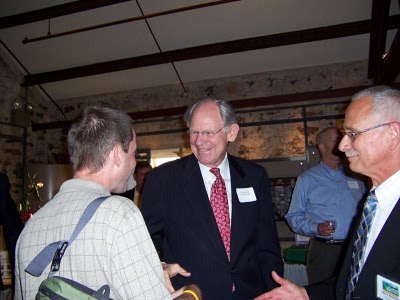 Speaking with Mike at Delaware Greenways Gala Ball, as he pledged his support, back in May.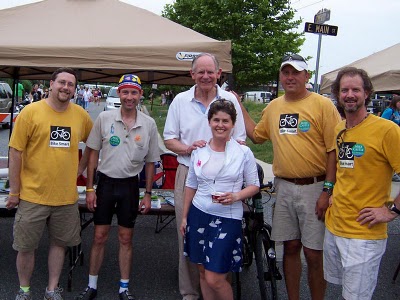 Mike coming over for a visit at Bike Delaware/DBC's Newark Night tent in June.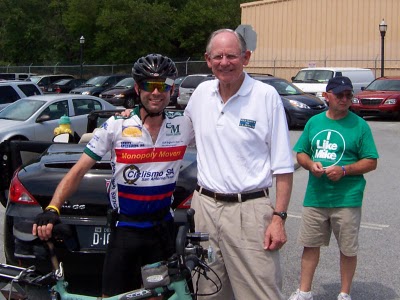 Mike and me at Delaware City Day, Sat. July 17.