DelDOT, in coordination with WILMAPCO and the East Coast Greenway Alliance, is preparing to erect signs marking the ECG route in Delaware.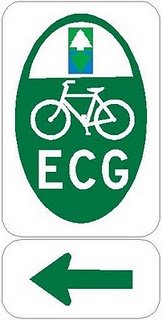 This particular MUTCD design, known as "M1-8a", is approved for use along its interim on-road sections, resembling those used for numbered bike routes such as Bike Route 1.

This design, by DelDOT in conjunction with the East Coast Greenway Alliance, will be used on the ECG's completed off-road sections. Examples can already be found in some areas, including the James F. Hall Trail in Newark.