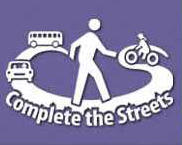 Members and interested parties are strongly encouraged to join us at our Tuesday, Aug. 3rd meeting for a singular opportunity to meet with DelDOT officials Bobbie Geier, Anthony Aglio, and Mark Luscz. The three, as planners and engineers, will be on hand to take your questions and provide as many details as possible concerning the Delaware Department of Transportation's (DelDOT's) "Complete Streets" policy, now in effect as of July 2010. The policy commits DelDOT to planning, designing, constructing, operating and maintaining transportation infrastructure that is "comprehensive, integrated, connected, safe and efficient" and which allows everyone to "choose among transportation modes, both motorized and non-motorized." Will DelDOT be implementing new designs or introducing new infrastructure to better accommodate walking and biking in response to the new policy? Does the policy apply to new road projects or retrofits? Will we see examples on the ground of the policy's effects anytime soon? Come find out at this special session from 6 pm to 7:15 pm, followed by the regular business portion of the meeting. Details as follows:

Bike Delaware General Meeting, Special Edition
Location: WILMAPCO
850 Library Ave, Suite 100
Newark, DE (map)
Time: 6 pm
Refreshments and pizza will be provided.