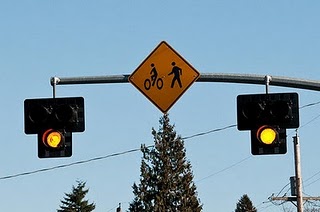 DelDOT Prepares to Premier New Type of Traffic Signal
Newark — As summer begins to draw to a close and classes are just around the corner for students at the University of Delaware in Newark, those taking agricultural classes on the Webb Farm will return to the campus to find a new kind of traffic signal. One meant to make it easier and safer for students, faculty members, and visitors to cross Route 72 at Farm/Webb Lane. The signal is a High-intensity Activated crossWalK (HAWK) and is being installed as a joint partnership between the Delaware Department of Transportation (DelDOT) and the University of Delaware's College of Agriculture and Natural Sciences. The location is the first in the state to be outfitted with this new type of signal. Read the press release HERE.

Here is a instructional video of a Hawk Signal in Tempe AZ.