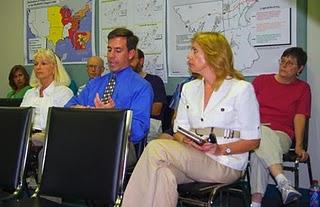 The WILMAPCO conference room was jam-packed last week with attendees of our general meeting hoping to gain information about DelDOT's Complete Streets Policy from DelDOT representatives Anthony Aglio (DelDOT Bicycle Coordinator), Bobbi Geier (DelDOT Planning Supervisor) and Mark Luszcz (DelDOT Traffic Systems Manager). In addition to talking at length about DelDOT's new "Complete Streets" policy, the three also fielded a variety of questions from a large room full of interested folks about problems on specific roads, design, infrastructure, maintenance and funding for bicycle and pedestrian projects. The meeting, which was originally scheduled for 1 hour and 15 minutes, lasted for almost 2 hours.
A few highlights from the meeting:
Both Bobbi Geier and Mark Luszcz emphasized that DelDOT's "Complete Streets" policy was not a radical break from DelDOT's past, but rather a confirmation of an internal trend at DelDOT to give greater consideration to pedestrians and bicyclists in its road projects that has been growing over a number of years. Rather than a new chapter at DelDOT, the "Complete Streets" policy is more properly seen as an official ratification of something that was already happening at DelDOT unofficially. Over the last 10 years, DelDOT has increasingly been implementing bicycling and walking components in most major road projects. The "Complete Streets" policy simply formalizes a commitment to do this.
In response to a number of questions about specific problems and safety issues, Bobbi Geier emphasized the enormous and continuing importance of funding. The new "Complete Streets" policy applies only to new road projects and does not have anything to do with funding stand-alone bicycle and pedestrian projects.
In response to a question about how DelDOT intended to implement its "Complete Streets" policy throughout DelDOT, Anthony Aglio said that an outside consultant has been hired to interview the various DelDOT departments about their implementation ideas.
Read the complete meeting minutes in pdf HERE,including questions answered regarding our ARSI (Design of Arterial Road Signalized Intersections for Improved Non-Motorized Safety and Mobility) study.