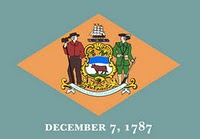 A huge amount of progress has taken place in a relatively short period of time. Delaware is clobbering other states left and right; a cell phone/texting ban, a vulnerable road users law, bike lanes across a major bridge span, a statewide Complete Streets policy officially in effect as of July, etc – these successes are seeing Delaware move well up into LAB's Bicycle-Friendly States (BFC) Top 10. None of this would have been possible without key legislators, advocates, and the Delaware Bicycle Council, who support our mission and the concept of livable communities and safe streets for everyone to enjoy. It's one thing that we push for change, but once achieved, it is equally important to recognize those who answer the call and get the job done. Please take a moment to thank those responsible, and consider getting involved at some level:
Ban on cell phones, handheld devices while driving, thank:
Sen. Karen.Peterson@state.de.us
Sen. David.Sokola@state.de.us
Rep. joseph.miro@state.de.us
Rep. john.kowalko@state.de.us
Rep. john.l.mitchell@state.de.us
Vulnerable Road Users Law, thank:
Sen. David.Sokola@state.de.us
Sen. George.Bunting@state.de.us
Rep. joseph.miro@state.de.us
Rep. michael.barbieri@state.de.us
Rep. bradford.bennett@state.de.us
Rep. william.carson@state.de.us
Rep. Deborah.Hudson@state.de.us
Rep. earl.jaques@state.de.us
Rep. Terry.Schooley@state.de.us
Rep. Daniel.Short@state.de.us
Rep. Robert.Walls@state.de.us
Rep. gerald.brady@state.de.us
Bike Lanes over the Saint Georges Bridge:
Attend the ceremonial ride across the bridge with Governor Markell, scheduled on Aug. 26th! Write a letter (or email: letters@delawareonline.com) to the Wilmington News Journal in support of the new bike lanes, and counter those in opposition. Write an email of thanks to Carol Ann Wicks, DelDOT Secretary, at: Carolann.Wicks@state.de.us

Complete Streets:
Thank Governor Jack Markell HERE. Thanks, comments, & encouragement go to Anthony Aglio, DelDOT Bicycle Coordinator at: Anthony.Aglio@state.de.us
Attend a Bike Delaware meeting, participate, volunteer for oversight HERE.