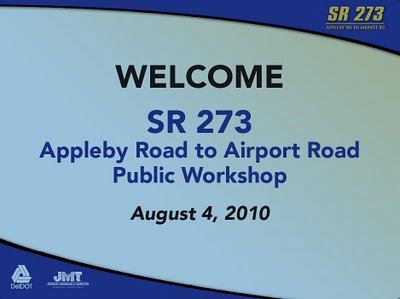 Improvements are proposed along approximately one half mile section of SR273 between Appleby and Airport Roads, as well as the approaches to SR273 from both. These intersections were identified as a high accident corridor through the Department's Hazard Elimination Program (HEP). Existing issues include capacity, safety, and complete streets implementation.
There are 3 proposed alternatives that will include pedestrian and bicycle improvements, and can be reviewed on these boards and displays (pdf). In the interest of safety, Bike Delaware members are strongly encouraged to choose which one they feel best suits the needs of non-motorized users, and provide comments. You can use this form in xls HERE, which includes a mailing address, or simply email your comments to DelDOT PR at: dotpr@state.de.us
A public workshop was held on August 4, 2010, however, failed to make Bike Delaware News as an action item. Virtually no one from the public showed, so this is our chance to influence the final decision making process for this project.