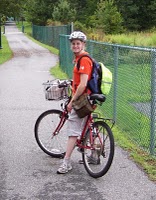 Are you a bicycle commuter in Delaware, or know someone who is? Email us a photo, and answers to the following 10 questions:
1) Name
2) Make/model of Bike
3) How many miles round trip each day?
4) Where to – from?
5) Avg. number of days per week you commute
6) How many years commuting?
7) What I like most about my commute
8) What I least enjoy about my commute
9) Does your job have secure bike parking?
We'll put this individual in the spotlight for least 2 weeks on Bike Delaware's all new "Commuter Spotlight" page. There is no specific criteria other than they bike for transportation at least occasionally.
Photo(s) can be downsized as low as 800×600 to be usable on our website. All entrants will be published in the order they are received, so there may be a delay period. Email us today at advo_info@bikede.org with your pick for Delaware's Commuter Spotlight!