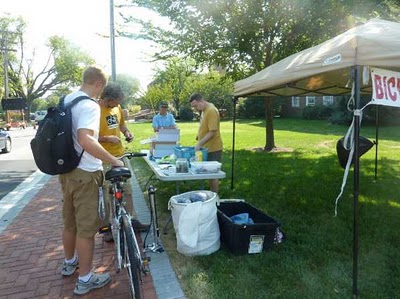 By Heather Dunigan – WILMAPCO
Bicycle safety checkpoints setup along Delaware Ave, Newark on Sept. 8 were a huge success. About 50 bikes received new lights on the south side of Delaware Ave, plus many more on the north side. A number of repairs were performed, including a flat tire and several faulty brakes. Numerous warnings were given about riding the wrong way.
Special thanks to DelDOT for setting this up and supplying lots of giveaways, the Newark Police, and UD Public Safety for making us look extra official – as well as all the Newark Bicycle Committee members who came to volunteer!
A 16 photo album can be viewed on Photobucket HERE.