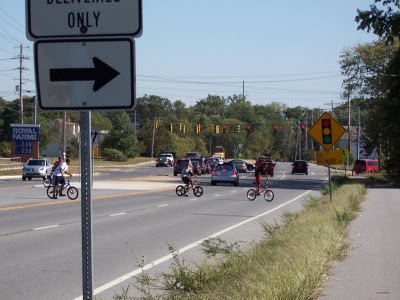 Several bicycle/pedestrian signalized crosswalk upgrades can be found at intersections along the Rt.72 (S. Chapel) corridor south of Newark, allowing safe connections to a multi-use path used by many as a non-motorized safehaven. This includes E. Chestnut Hill (Rt.4), Scottfield Turn, and Dawson/Bellevue. But south of the I95 overpass and you're on your own.
Despite bike lanes on Old Baltimore Pike to the east, making the connection here on foot requires crossing a 4 lane high speed arterial at an intersection without such facilities. As illustrated, the area is frequented by bicycles and pedestrians, including children – especially with the arrival of a new Royal Farms convenience store located in the NE corner.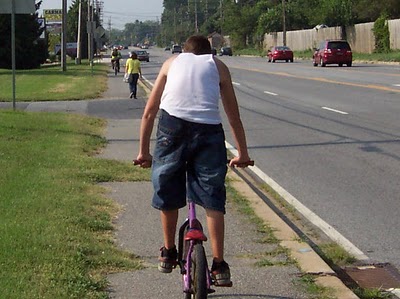 A typical scene north of I95, just north of the intersection at Scottfield Turn. Note the deteriorated condition of the path, which according to design manuals should be at least 8 feet wide. It hasn't seen pave & rehab probably since the 1980s.