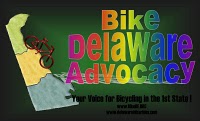 A meeting you won't want to miss. Bike Delaware is calling upon its membership and all interested parties to attend a special meeting at 6 p.m., on October 5th. This is NOT a board meeting; we will be discussing and voting on our goals and objectives for 2011, and need as much input as possible. Among others:

• 3 Foot Passing Law?
• Active Community Transportation Act?
• Better Bike Lanes?
• Implementing Complete Streets?
• Connect the Cul-De-Sacs?
• Improved Driver Education?
• East Coast Greenway?
• More Elderberry Rides?
• Big Infrastructure?
• On-Line Bicycling Maps?
• Printed Bicycling Maps?
• Better Pedestrian Infrastructure?
• Bicycle-Friendly Roundabouts?
• Slip Lane Moratorium?
• Bike Safety Program?
• Sharrows?
• Bike-Friendly Training for Traffic Engineers?

Bike Delaware is your non-profit, state-wide advocacy organization. This is the opportunity you've been waiting for, where you can help shape the future of bicycling in Delaware. Please forward this blog post to others, as you see fit. Print the flyer in pdf HERE for distribution.
Meeting location:
WILMAPCO, 850 Library Ave, Suite 100, Newark, DE
Map: