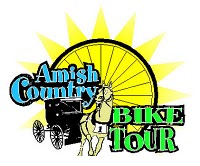 By Cindy Small, Kent County Tourism
Kent County Tourism would like to thank Bike Delaware for helping spread the word about the 24th Annual Amish Country Bike Tour held September 11. We surpassed all expectations and records with a pre-registration of 1,200+ cyclists. The previous pre-registration high was 645 in 2008. In total, we had 1,309 cyclists who participated. More than 200 of them accomplished the 100-mile challenge. Our youngest cyclist, five years old, completed the 15-mile route.
Cyclists came from 15 states. One senior cyclist from Georgia chose the Amish Bike Tour as his "Delaware" ride — his goal is to ride a Century in each of the 50 states, and Delaware was number 30 for him. The largest team was from Chesapeake Utilities Corporation with 29 cyclists. The team that came the farthest was the Staten Island Bicycle Club, bringing 9 team members. They will return for 2011, stating the Amish Bike Tour was one of the best organized rides in which they have participated. Incidentally, their club also does a large cycling tour, so they understand the amount of planning and coordination that goes into a event of this size.
The Fuji bike donated by Dave's Road Bikes was won by Ed McNeeley of Middletown. Last but not least, please mark your calendars for the 2011 Amish Country Bike Tour — it will be held on Saturday, September 11 — we hope to see you there!