Newark — The Delaware Department of Transportation (DelDOT) has announced that the long-awaited Elkton Road project, which extends in its entirety from Delaware Avenue in Newark to the vicinity of the intersection with Gravenor Lane, will begin Monday October 18, 2010. The project is divided into four construction phases and will include roadway reconstruction and intersection improvements, among other features.
The Phase One work beginning October 18 and run through November 2011, will include the area of Elkton Road between Casho Mill Road and Delaware Avenue. This portion of Elkton Road will be reconstructed to correct deteriorated pavement, improve safety, and improve traffic operations. Intermittent lane closures will be required for the removal and paving of concrete islands. The removal of the islands is temporary and will allow for a switch in traffic patterns during the first month of work. The change will affect the portion of Elkton Road between Casho Mill Road and Apple Road.
Overall, in addition to pavement reconstruction, the project includes additional turn lanes at the intersections of Elkton Road and Casho Mill and Apple Road, reducing Elkton Road between Apple Road and Delaware Avenue from four to two lanes with a two-way center turn lane, new sidewalks and curb ramps, bike lanes, and utility improvements. The segment of Elkton Road between Amstel and Delaware Avenues had previously been identified as a Hazard Elimination Program (HEP) site. More . . .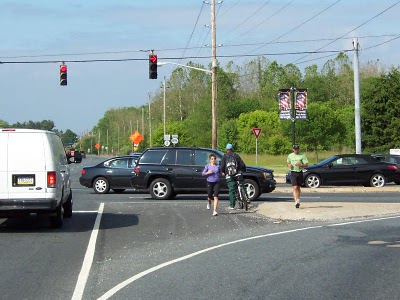 The current scene on Elkton Road, at Christina Pkwy heading east toward Newark. This section, which also extends west to the Maryland border, will be covered under additional phases (timing not yet determined).
Visit the project page HERE for details, including a link to the original workshop back in 2005 .