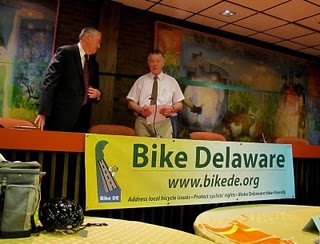 The importance that bicyclists have a strong presence at these three events cannot be stressed enough. Please consider going to at least one if your schedule allows.
Philadelphia Pike Improvements Project (reminder)
Tuesday, November 16, 2010, 4-7 pm. The Delaware Department of Transportation (DelDOT) is holding a Public Workshop to present information regarding implementation of the first phase of the Claymont Transportation Plan. The plan includes proposed modifications to the existing lane configurations on Philadelphia Pike to provide opportunities for parking, bicycle or transit use. Claymont Fire Hall, Training Room, 3223 Philadelphia Pike, Claymont. Complete info on Bike Delaware News HERE.
City of Newark Transportation Plan – 2nd Workshop
November 16, 2010, 7 pm. WILMAPCO (map) and the City of Newark will host the second workshop for the Newark Transportation Plan. At the workshop, they will present draft recommendations developed based on public comment and technical analysis. Following the presentation they will invite discussion and questions about the draft recommendations. Bicycling is heavily included in the plans, and they need our input. Please visit the event web page to view the Workshop flyer, send comments, suggestions or photos of issue areas or post your ideas by becoming a fan on facebook to join the discussion forum.
Our Town
November 17, 2010, 4-7 pm. This event will be the highlight of WILMAPCO's public outreach for the 2040 Regional Transportation Plan. It provides the opportunity for stakeholders and interested citizens to learn about the RTP update, and share ideas. The event is also being held in conjunction with outreach for several other long-range Plans for Delaware and Maryland. You will also have the opportunity to participate in the development of several land use and transportation plans for Delaware and Maryland. Hors d'oeuvres will be provided. Takes place at the Embassy Suites Hotel on 654 South College Ave, Newark, DE 19713. Event web page HERE. Pre-registration is free but required.