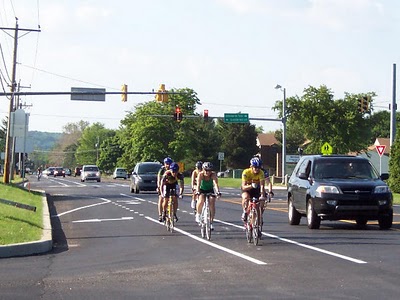 172 responded to Bike Delaware's Intersection Bike Lanes survey, now officially closed. The results will be used as supporting data for our second ever position statement, titled "Bike Lanes Through Intersections with Right Turn Only Lanes". Currently in draft form, the final revision will be voted on by Bike Delaware's Board of Directors. Once approved, it will be submitted to DelDOT's bicycle coordinator, Anthony Aglio, for possible inclusion in Delaware's version of the Manual on Uniform Traffic Control Devices (MUTCD).
Analysis:
At intersections in general, most indicate a lack of driver respect and a disdain for bicyclists as legitimate road users, at least on occasion. As expected, an overwhelming majority (86%) view properly designed bike lanes as having at least somewhat of a positive influence on motorist behavior. Motorists turning right as they overtake bicyclists, also known as the "Right Hook", is cited as a problem at some level by close to 90% of respondents. Finally, an additional 64% indicated a willingness to obey traffic laws where bicycle facilities are present, which includes bike lanes or other legally defined space. See the results in pdf HERE.
Just under 1/3 submitted comments. They are a serious part of this survey and will be submitted to DelDOT along with the survey results. Among the notables:
There was strong support for proper striping (bike lanes) as a safety enhancement and form of "on-road" education.
Several were unable to answer Question 4, as intersections with bike lanes do not exist in every part of Delaware.
The legal implications of using right turn-only lanes as shoulders, in the event there is a crash or altercation, is a major concern.
Motorist's lack of education or unwillingness to accept bicyclists as legitimate road users is cited as a huge problem.
A disdain for traffic laws – mainly failing to stop at red lights – is viewed as souring bicyclist's relationship with the motoring public.
Vehicular cyclists, though weary of bicycle-specific infrastructure, generally accept its role for the "less confident, less skilled".
Bike Delaware thanks everyone who participated in this survey. With your help, we will continue working with DelDOT to improve bicycle safety on Delaware roads, especially in this era of ever increasing demand for automobile LOS (level of service).

View Larger Map
Bike lane retrofits are appearing all over Hawaii, this one in Maui. Paint alone can signal to motorists that bicyclists have a right to the road, and provide legal protections when using a right turn-only lane as a through lane.