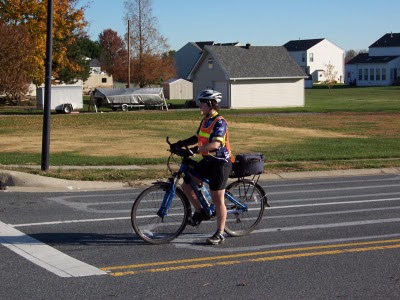 An occasional problem for Delaware bicyclists, and in particular for bicycle commuters, is the traffic loop sensor. These are the devices which detect the presence of vehicles to control the sequencing of traffic lights at many intersections. Often, they are installed in figure-eight slits cut into the pavement near a traffic light, as seen in the photo above.
How do they work? It starts with the slight change in inductance of the loop of wire buried in the slit caused by a large metallic object (such as a motor vehicle) above the loop. The problem for bicyclists is that sometimes the sensitivity of the electronics behind the loop are just a bit too low, due to either age related issues with the hardware or to avoid false detections. This can make it difficult for a bicycle (a relatively small metal object) to make its presence known to the sequencing circuit. The result is frustration for a bicyclist trying to get a green light or left-turn arrow. This is especially a problem at streets with low traffic – often where these sensors are used in the first place – as one waits for a motor vehicle to come by and trip the sensor.
The situation has improved over the years. Our friends at DelDOT do their best to ensure new installations default at a level expected to detect all vehicles, and they usually do. But there's still some out there with older hardware that just won't detect anything except motor vehicles. Well, help is on the way! DelDOT's Traffic Department is ready to respond. They're willing to dispatch a technician if needed to assess the problem, and make the necessary adjustments. Contact Steve Treut, Signal Maintenance Manager, to report traffic signals that just won't see bicyclists at intersections: Steve.Treut@state.de.us
A HUGE tip of the helmet to Mark Luszcz of DelDOT for extending this opportunity to us!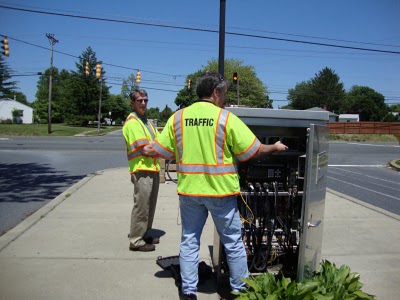 Above: DelDOT Technicians Steve Treut and Rob Kern work on a signal panel, in this case increasing sensitivity for bicycles at the Brownleaf/Route 273 intersection.