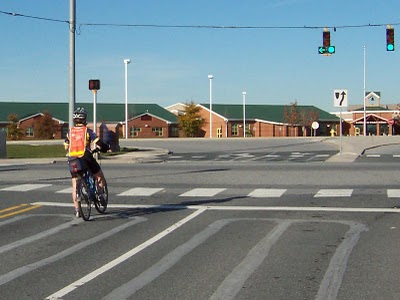 Only a few weeks after the word getting out, DelDOT acted on a tip from a Bike Delaware member concerning a red light that just wouldn't sense a bicyclist's presence. "It was my issue when I commuted to Newark. I would leave McCoy Road and cut through to the development to come out at this intersection. The light never worked – I had to use the cross walk" says Barbara Gillespie, long time resident and member of the White Clay Bicycle Club and Bike Delaware.
Wilson Blvd, at Rt.72 (Wrangle Hill) marks the very first repair since the campaign began. It will now enable cyclists to position their bike over the loop detector and trigger a phase change to green.
Is your commute and safety compromised as a result of running red lights because they just won't change? DelDOT is standing by, ready to dispatch a technician to investigate! Email Steve Treut at: Steve.Treut@state.de.us and let him know the exact location and details.