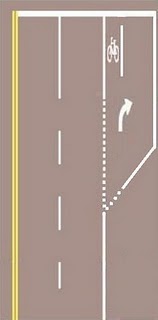 After several weeks of study, data collection, committee input, and multiple revisions, Bike Delaware's latest position statement titled "Bike Lanes at Intersections with Right Turn-Only Lanes" is finally complete. The primary goal is to provide supporting data and justification for properly designed bike lanes through intersections, or "pocket lane" retrofits where there is insufficient width to incorporate a standard 5′ bike lane. It also defines Bike Delaware's position on bike lane width as it relates to different posted speed limits.
Among the most frustrating and dangerous challenges Delaware bicyclists face every day is the loss of shoulder space at the onset of right turn-only lanes (RTOLs). Not only can there be legal implications involved when using one as a shoulder or through lane, but cyclists are compelled to continue through on red as cars cue up behind them waiting to turn right. Defined space, however, in the form of a bike lane or other marked provision, gives cyclists credence as a participant in vehicular traffic. There is also a much higher probably they will follow traffic laws, as seen in a recent survey conducted by Bike Delaware.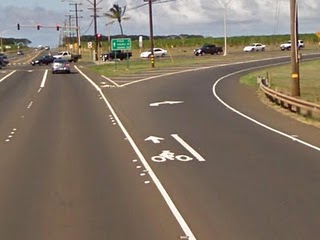 Left: Bike "Pocket Lane" retrofits in Maui, Hawaii. Neighboring Maryland has recently adopted the tool in their own MUTCD as well.
Also view a comprehensive study performed in Eugene, Oregon, at the UNC Highway Safety Center. The benefits are abundantly clear.