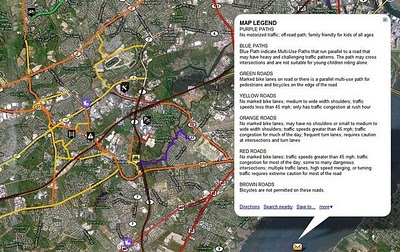 The most commonly asked question faced by Bike Delaware members is, "Where can I ride safely in Delaware?" Most non-cyclists avoid taking up cycling because they simply assume all roads in Delaware are not safe enough. Well, we want to correct this misconception by providing a thoroughly researched rating system for roads and trails that will help people decide where to ride for leisure or commuting to work or shopping.
Every road in Delaware will be rated by cyclists for bicycling, and will be designed to match riding ability with roads and trails that suit their needs and abilities. The map is created through Google Map "My Maps" and can be viewed in multiple formats such as satellite version, map version, or terrain version. A printed version will also be produced annually for distribution by Bike Delaware. Additional information will be provided for families looking for places to take children of all ages for safe, off-road bicycle riding. Delaware can boast of many such family-friendly places to ride. Areas that may have safety issues or other causes for concern will be noted as well.
So far, over 130 roads and trails in New Castle County have been rated. Bike Delaware plans to have all New Castle County roads and trails rated by the end of January 2011 and Kent and Sussex counties completed by April 2011. A link will be provided to the map for general public use by February 1st and posted on both the Elderberry Bike Rides blog and Bike Delaware website.
If you would like to assist with rating the roads and trails, please contact Caroline Honse, VP of Bike Delaware at: delawarebikerides@gmail.com
Rest assured, anyone who helps with the project will be surprised with finding new and exciting places to ride!