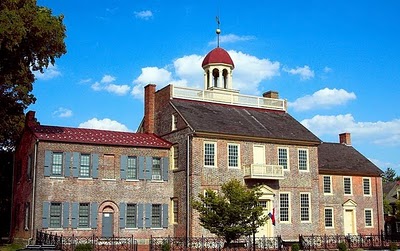 Join us for a leisurely day pedaling around New Castle Delaware for their Spirit of Christmas events. Scheduled events sponsored by New Castle City includes: House tour, musical groups, special museum events, plus items for sale in the church fellowship hall at 25 E. 2nd St. Santa's Workshop at The Velocipede.
Dust off your camera and lenses, pack them in your panniers with an extra layer of clothing and take your time discovering all the hidden photogenic treasures on New Castle's cobblestone streets.
Walk the same steps that our forefathers walked. Packet boats from Philadelphia met stage coaches and railroad for Frenchtown, Maryland, chief line of communication from north to Baltimore and South. Andrew Jackson, David Crockett, Daniel Webster, Henry Clay, Lord Ashburton, Sam Houston, Louis Napoleon, Stonewall Jackson, Indians (led by Osceola and Black Hawk) en route to visit "Great Father" in Washington all passed this way.
Ride begins at Battery Park parking lot (corner of W. 3rd St. & South St.)
Saturday, December 11, 2010
1:00 PM to 5:30 PM

Full details HERE.