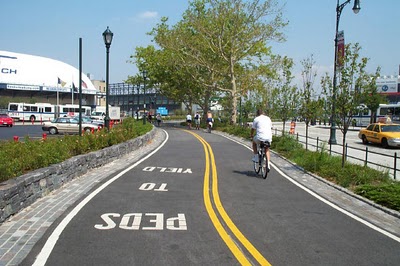 Editorial, by Ed Weirauch
"If you build it, they will come."

That statement, made famous in the movie Field of Dreams, apparently applies to bicyclists in New York City (NYC), whose numbers have dramatically increased over the last ten years as bike lanes and other bike-friendly accommodations have been introduced.
In "Cycling in New York: Innovative Policies at the Urban Frontier," transportation researcher John Pucher reports that the "number of bike trips in New York has almost doubled since 2000 thanks to a vastly expanded cycling infrastructure, including innovative treatments such as cycle tracks, buffered bike lanes, special bike signals, bike boxes at intersections and bright green lane markings." The study was published this summer in World Transport Policy and Practice.

Pucher, a professor of urban planning at Rutgers University, conducted the study with a grant from the US Department of Transportation. "If bicycling can thrive even under the challenging conditions of New York City," that city's policies and results "might provide momentum for cycling growth elsewhere," Pucher concludes.
Among his findings:
NYC began rapid expansion of its bike network in the year 2000.

Increase in the number of NYC daily bike commuters, according to US Census data:

1990 9,643 bike commuters

2000 14,660 bike commuters

2007 24,428 bike commuters
Pucher reports that part of this 150 percent increase in cycling can be traced to the development of bike accommodations on the bridges that cross the East River and connect Brooklyn and Queens to Manhattan and in particular, the city's central business district. Furthermore, Brooklyn communities that are within a 20-minute bike ride of the Brooklyn Bridge have experienced rebirth or gentrification over the last decade. Geographically, these neighborhoods are now considered reasonably close by bike to a major employment center.
Of New York's five boroughs, Brooklyn has experienced a 315 percent increase in cycling, one of the most dramatic increases in the US.
Pucher then points to the dramatic increase in NYC bike routes. In 1997, bike routes covered 119 miles and most of these were on-street bike lanes without any physical separation from cars. By 2009, that increased to 562 miles of bike lines of three forms:
134 miles of physically separated facilities

282 miles of on-street bike lanes

146 miles of suggested bike routes without provisions
Perhaps the best example of a NYC bike route is the Hudson Greenway, a separate, paved bike path running the entire length of Manhattan. Every weekday, the Greenway sees approximately 4,200 bike trips.
Bike parking accommodations are still rather limited according to Pucher's findings although the number of bike racks in NYC has increased from just 600 in 1997 to 6,100 in 2009. Racks tend to be jammed with bikes and cyclists must use polls and any other resource they can find for secure bike parking.
The challenges that still face cyclists in NYC include a lack of traffic safety enforcement by police despite the dramatic increase in the number of cyclists, and the small but growing number of education and training in safe driving and cycling programs. Pucher mentions that practices in European countries are far ahead of those in the US.
Even with these deficiencies, Pucher's study clearly makes the case for communities expanding bike accommodations as perhaps the most effective way to encourage more cycling and in particular commuter cycling.
The full study including extensive pictures and graphs is available in pdfHERE.