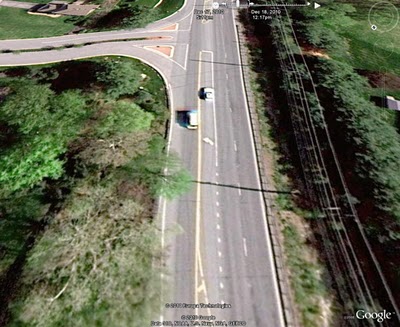 Pave & rehab activities on Limestone Road in Hockessin include the possibility of bike lanes on the graded section between Lantana Square and Sheringham Drive. The shoulder on the northbound side (downhill) must contain a certain level of integrity to sustain regular traffic. If it does, it's possible the lanes can be shifted to create room on both sides of the road. It is particularly important on the southbound (uphill) side where there is currently no shoulder space along the guardrail. Currently, construction has stopped just north of this section. Core samples must be drilled in order to find out.
Few possibilities exist for bicyclists riding from Hockessin to points south toward Newark. Among those is Valley Road to North Star, involving a climb on a busy, narrow lane that is steeply banked on both sides. In one case, a member of the White Clay Bicycle Club was sideswiped by an SUV as she attempted to climb up to Little Baltimore Road. So the importance of a safe route between these areas is key for Delaware cyclists.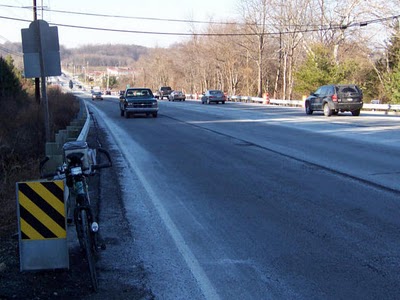 The view facing down the hill toward Hockessin. Riders often climb up this way en-route from Hockessin to points south, including Newark. There is a possibility shoulder space can be created if the shoulder on the opposite side can take the weight of steady traffic.
Bike Delaware thanks Anthony Aglio, our Bicycle Coordinator, for making this request to DelDOT Traffic on our behalf.